Our Aim is simple to provide and support all of our learners to help achieve greatness.
Learn English online, the most widely spoken language in the world commonly used in popular mediums such as movies, TV shows, songs, and news media. It's the official language in 53 countries and many countries that do not have it as an official language still use English in their Lingua Franca.
With an estimated 1.5 billion speakers worldwide, imagine the number of people you can interact with and the interesting things you can discover about their culture by learning English! It's truly a 'global language' and its importance cannot be overstated in an increasingly interconnected and globalized world.
This is a must for anyone looking to reach a intermediate level. 
This is a CPD accredited interactive course is designed to learn the english language with simple to follow videos to help you learn the English language from day one. You will learn how to communicate in every day situations to responding and answering simple questions.
This course has benefited many of our students globally gaining confidence in English Speaking and employment within office environments and English Speaking Environments.
After this course you will be able to
Develop the knowledge to Move onto our level 2 course
Understand TV, music and films
You will be confidently know how to ask and answer questions.
Improve your job prospects with every level English. Continue learning with English Level 2 .
This course is CPD Accredited and is a International recognised qualification,  All online language courses offered by Learn Library are mapped to internationally recognised ACTFL / CEFR levels and "Can Do" statements.
This course can be added to CVs and as a point of reference or shown to a business as proof of completion as you will receive a Free CPD accredited certificate.
Why Learn English with Learn Library
You can access any of our courses whenever, wherever thanks to Learn Library mobile compatibility. You'll have lifetime access so you'll never forget your new language skills.
Making you sure you get the most our of this course is our number 1 priority.
Additionally, you will receive a certificate of completion when you successfully complete the course.
We also offer free support to you complete the course.
This is all animated and easy to follow step by step course
100% slowly communicated spoken english
CPD Accredited, this course is mapped internationally and is a recognised ACTFL and CERF Levels in English.
International Recognised qualification which you will be able to add onto your CV or show as reference of completion to companies or simply add to your CV.
46 easy to follow lessons, hours of learning.
Completely flexible learning meaning you can studying in your own time.
Course for life, This course will be able to be retaken and review even when you have completed the course.
You can carry this course out on mobile, tablet, desktop and laptop.
The ideal person for this is:
Low to basic level of English
Who has a desktop, tablet or mobile device
Someone who is looking to move to England
looking for a English course to add onto there CV or to show to a business.
Looking to travel and understand the basic language to communicate
Looking to move to England or a English speaking country.
Learn Library Language courses are designed and written by native speakers in the United Kingdom this ensures our course is the best possible standard of learning currently available online
Our English e-learning course is designed with you the student in mind and the content is recognised throughout the United Kingdom and Globally.
So if you are looking to improve your English to a very high standard, perhaps gain Employment with an English business or just improve your personal skills we can not rate this course highly enough.
This course can help with the following 
Improved Confidence with English Language
Higher Success of Gaining UK employment
Gateway to Higher Education
Stronger response to job applications and better opportunities
Personal growth and well being noticeably improved
Learning English for a specific environment?  Courses which may also benefit you are:
Alternatively We have the following:
If you have any queries about this course please contact us at team@thelearnlibrary.co.uk and we will be happy to assist and answer any questions you have about the course.
Course Content
2
Lesson 2: Greetings – Part 2
4
Lesson 4: Alphabet (A-I)
5
Lesson 5: Alphabet (J-R)
6
Lesson 6: Alphabet (S-Z)
7
Lesson 7: What's your name?
8
Lesson 8: Introductions Part 1
9
Lesson 9: Introductions Part 2
10
Lesson 10: Formal Introductions
11
Lesson 11: Possessive Pronouns My/Your/His/Her
12
Lesson 12: Possessive Pronouns Plurals
13
Lesson 13: Personal Pronouns
14
Lesson 14: Personal Pronouns plural
16
Lesson 16: Where are you from?
17
Lesson 17: Where is He/She from?
18
Lesson 18: Nationalities
19
Lesson 19: Numbers 0-10
20
Lesson 20: Numbers 11-20
21
Lesson 21: What's this?
23
Lesson 23: Numbers 21-100
24
Lesson 24: What's your telephone number?
25
Lesson 25: Give your contact number and address
30
Lesson 30: Greetings review
31
Lesson 31: Days of the week
32
Lesson 32: What day is it?
33
Lesson 33: Possessive Adjectives My/Your
34
Lesson 34: Possessive Adjectives His/Her/Their
35
Lesson 35: Family members
36
Lesson 36: Family members (Relatives)
37
Lesson 37: Family members introductions
38
Lesson 38: Yes-No Questions
39
Lesson 39: Fruits Part 1
40
Lesson 40: Fruits Part 2
42
Lesson 42: Vegetables part 2
44
Lesson 44: Food part 2
45
Lesson 45: How old are you?
46
Lesson 46: Possessive Pronouns My/Your name revision
Frequently Asked Questions
Example Lesson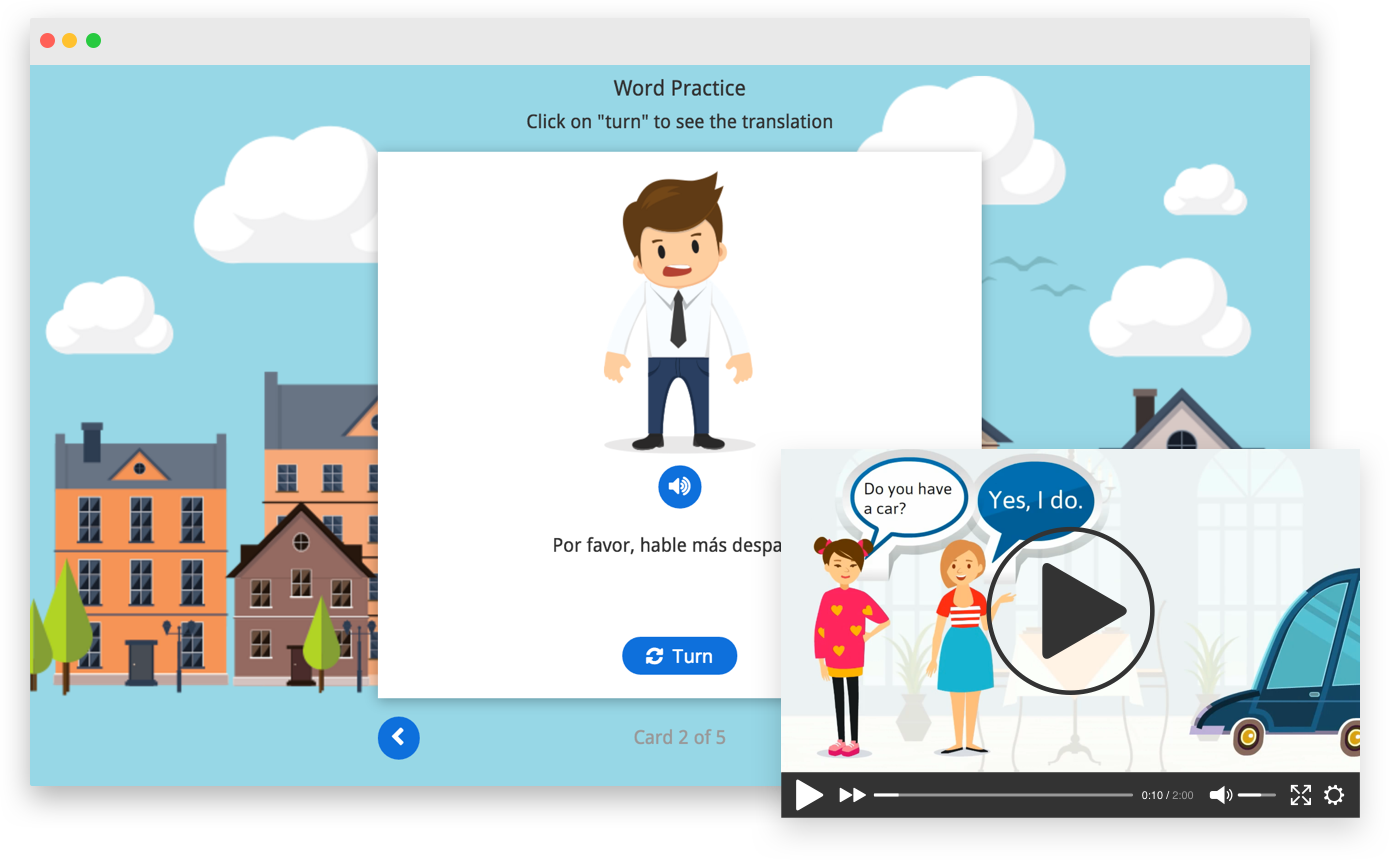 Example Certificate